CW and I are the type of friends where typically one of us will randomly say "Let's try ______", and we will eventually go head forward into it. The latest, suggestion was; Let's g
o
Snowboarding
Yup, snowboarding. From someone who has lived in a winter city all her life, this is the first time I have attempted this.
CW had mentioned she wanted to try snowboarding last winter and I was like sure, it came up again this winter. And this was the winter we definitely went through with it; but first I needed the appropriate attire. So I, or shall I say "we" ended up spending our weekends for Feb and Mar hunting down some gear. We definitely took advantage of the end of season sales, the only down side was because it was end of season, the selection was limited.
First, I needed to pick up some outwear; I have no idea what to brand to buy or what I needed. So google to the rescue. There are a couple of options when when purchasing outwear; you can opt for the 3 layer system which consist of a snow jacket or a shell, followed by a soft shell, and a base layer. Or you can opted for a down jacket. But most importantly you're outer gear must be water resistant, breathable, and wind proof, because the key is to stay dry!
I did not know how technical a snowboarding jacket can get get, but after some research I found out that ideally you would want your jacket and pants to be 15,000 mm waterproof but 10,000 mm waterproofing would be acceptable. Since your pants will have much more contact with the snow than your jacket, most people opt for 15,000 mm waterproofing. Oh and taped seams are a must. As for breathability you would like to aim for something between 5000 g -15, 000 g.
I shopped around a bit, and I ended up purchasing the Oakley MFR jacket and the Oakley Fitted pants. I actually ended up purchasing the majority of my gear from the Oakley store. Not only were the Oakley SA super helpful and nice; they all seem like they belong long there. They all seem to have the snowboarding vibe oozing out of them.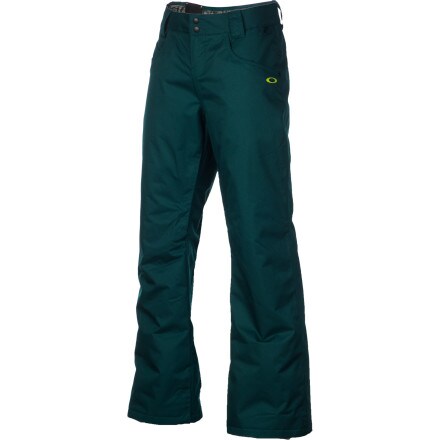 My pair is black, Photo courtesy of backcoutry.com
Both met my water proof, breathability, and windproof criteria. One piece of advice I can offer in my limited experience of snowboarding is that you may need to size up. I completely sized up on both my jacket and snow pants because you have to keep in mind that you will be layering up so you gotta make space. Plus you want space so you can move manoeuvre easily. Talking with the Oakely SAs I get the impression that they size up even more then just going to the next size up. One guy told me he buys everything XXL and in my head I was like you barely look like you can fit a L.
The Oakley MRF jacket is not insulated, but it does have fleece patches at the core of the body and OMG for something that is not insulate, it is super warm. I'm like amazed at how warm sports gear is, have I been living under a rock?I guess the windproofing really makes a big difference. I'm at the point of screw buying fashionable coats, I'm just going to invest in sports wear. But I do know on a mountain, it would get much colder so I needed to pick up a soft layer. I couldn't find a fleece layer that was on sale, but I managed to pick up this soft shell from Bench for $35 (original price $$130).
Sorry, I forgot the name of this jacket
This Bench jacket is incredibly light and to my surprise super warm as well. The only compliant I have about this is the shape of the hood, when I wear it, it looks like a tele-tubbie.
Next I had to get base layers, the only criteria it need to meet was it had to be quick dry.
Then I realized I also needed gloves and snowboarding socks, so I also picked these up at the Oakley store (sorry I forgot to snap a pic of the socks).
And here is the reason why I also needed to size up for my snow pants, the small fit and I had a little extra space, but when I threw in the impact shorts, they were a little snug.
Burton impact Shorts
Boy, never in a million years did I ever think I would purchase butt pads, and if I did, these were definitely not what I had in mind. My brother actually suggested I purchase these because they do offer some protection for your tail bone, butt, and hips. Apparently these are more intended for people who free style, but I really did not want to break or bruise my butt. Please note that these are not Unisex; I initially thought they were unisex but after a little googling they have versions for women and men. These were so hard to track down at the end of season, but I manage to snag a pair.
From my guess, how you can differentiate from a men's pair and a women's pair is the tag on the waist band, the women's pair has a white tag, the men's tag is red.

If you're thinking what I did, no worries, your snow pants will not fall off because most brands, you're snow pants actually hooks onto your snow jacket. Oakely, actually has a snow skirt system where your pants either snaps or zips onto the snow jacket.
See the snap near the white tag
It snaps into the snow skirt inside the jacket
Then of course we needed a helmet. I picked up the Voyager helmet from Smith. The only thing that the helmet needed to have was vents. Plus a cute color didn't hurt either
L: vents open, R:vents closed
After purchasing all this, I realized that I needed something to carry all this gear, so I picked up:
But when you get to the ski hill, you quickly realize that you don't need a bag to carry your gear, everyone just shows up all geared up.
I somehow managed to become the Oakley girl, literally I'm decked out in Oakley gear from head to toe. CW purchased the majority of things from Burton because they had a better fit for her.
Winter sports are quite expensively, but luckily I managed to purchase everything for 40-50% off. After all this I would have to say we're definitely committed to snowboarding. Next season, CW and I are going to pick up our missing pieces i.e board, boots, binding, and googles.
Since it was the end of season we only managed to get up the slopes once, but next year we are definitely going to make it up there more frequently.
♥ Viv